Opening
Hours
Monday – Thursday 8am – 5.30pm
Friday 8am – 5pm
Free 36 Point Check
We offer a FREE 36
point vehicle Check!
Click Here to Book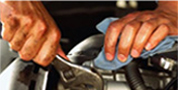 AutoCrew is a concept which Robert Bosch GmbH offers to those independent workshops which qualify.

Testimonials
First Class Service - Knowledgeable, Helpful and Friendly
Value

Quality

Service

Overall
Legendary Customer Service does exist - just visit MGC. They ended 3 months of absolute frustration trying to find someone (amongst plenty of disinterest) to resolve a starting problem on my Renault Espace diesel. It took them just 10 minutes. These people actually seemed to care quite passionately about my problem and knew what they were doing - a rare breed in my experience. Well worth the 50 mile drive I made to go there.
By Roger Scholes -
30/08/2008

This is the place to go!!
Value

Quality

Service

Overall
Serviced my Renault Megane with professional, friendly and finally, know what they are talking about lads. Above all, the cost is certainly alot cheaper than the main dealer who know's jack all about Cars. On a final note, I would like to thank Mike and his work force for their superb outstanding job and I will certainly use them again. Top Job Well done!!
By David Mapleston -
06/03/2008

Deserves the buisness!
Value

Quality

Service

Overall
Excellent specialist offering friendly, professional service and advice, i will gladly go back with my Alfa 166, thank you Mike.
By jerry krawczyk -
07/01/2008

Excellent customer service!
Value

Quality

Service

Overall
Excellent customer service that is high quality and tailored to individual customer needs. Prices are very competitive and both manager and staff are always polite, approachable and accommodating. I highly recommend this service! ____Mrs Henry-Webb, Notts
By Lavinia Henry-Webb -
07/01/2007

another satisfied customer
Value

Quality

Service

Overall
Took my Alfa for service and mot . Extremely friendly staff,phoned me within an hour of having car to let me know the situation.Explained the problems in a way even i could understand. Better than Alfa service, but not at Alfa prices !! Would recomend to anyone
By lawrence pont -
15/03/2007

Sensible Prices and Great Service
Value

Quality

Service

Overall
Why aren't all garages like this ? Took them my Renault Laguna for a Service even though it's still in warranty. They used genuine parts and did the same service as the main agent but at a fraction of the price. Big glass buildings arent worth the price difference, I'll be coming back and letting all my friends know to give them a try. Thanks
By Graham Holmes -
04/12/2006

Amazing value
Value

Quality

Service

Overall
Took my Renault Laguna to them with an engine light on as Main agent couldn't fit me in for 4 days, they saw me within an hour. Problem turned out to be a Lambda sensor, which they got and fitted for me in less than two hours. They also gave ma a lift home and collected me for FREE!!! Booked my coming service with them and suggest you give them a ring to as they are £93.40 cheaper than the dealer. Great service, keep it up.
By Peter Johnson -
27/11/2006

Help in my hour of need
Value

Quality

Service

Overall
My Alfa broke down, three days before going away on holiday. Main dealer couldn't fit me in for over a week, which was no help at all. Found this garage on the net, they got me in the next day and fixed the problem in a little over an hour. Very knowledgeable, fast and friendly service. Going to use them for servicing from now on. Also they are so much cheaper than the main dealer prices. Worth a call.....
By James Palethorpe -
29/10/2006

Very Impressed
Value

Quality

Service

Overall
My Alfa 147 was just out of warranty and due its 36K service. The menu price of the service at the main dealer (£400) was keeping me awake at night, so I decided to try these guys after receiving a mailshot. Glad I did. Run by some ex-mail dealer people, and only going since Feb 2006, they were very friendly and knowledgeable and bent over backwards to help -- even running me into Nottingham after I'd dropped off. Look beyong the rather small and low-rent premises and you should be laughing -- especially with labour rates half the main dealer.
By David Ramsden -
29/09/2006

Got me out of trouble
Value

Quality

Service

Overall
Had a major problem with my brakes on my Alfa Romeo. Main dealer couldn't see me for 8 days. These guys managed to get me in same day, fixed the problem and was £412 cheaper. Will get my business from now and will tell everyone I know about the great service.
By mike clay -
04/09/2006