Opening
Hours
Monday – Thursday 8am – 5.30pm
Friday 8am – 5pm
Free 36 Point Check
We offer a FREE 36
point vehicle Check!
Click Here to Book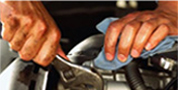 AutoCrew is a concept which Robert Bosch GmbH offers to those independent workshops which qualify.

Testimonials
Fantastic all round
Value

Quality

Service

Overall
A pleasure to deal with; very quick, VERY helpful and have gone out of their way to make my business with them as easy as possible. Have, and will continue to recommend without a second thought.
By Joe H -
19/10/2011

Job very well done !
Value

Quality

Service

Overall
Replaced the electric power steering on my sons Fiat Punto,swiftly with no fuss and for a very competitive price! Big thanks to Mike and the lads.
By Mark Macmillan -
27/09/2011

Superb Garage - Cheers Mike!
Value

Quality

Service

Overall
How many garages do you know that will go above and beyond to fix your car faster than expected and for significantly less money?! I have used MGC several times now and not once have they let me down. The best time was when I rang them when my partner's clio engine was miss-firing at 4pm on a Friday afternoon and her working over the weekend...Mike diagnosed the problem over the phone, ordered the part and by the time I got to the garage at 4.30pm, it was there and ready to be fitted, which they did straight away! They also looked at a problem with my car while we waited! I can't fault them at all! I wish I had found this garage ages ago - It would have saved me so much time and hassle with rip-off Renault dealers! Just remember to bring chocolate/ doughnuts for the lads!
By Mike Little -
31/08/2011

brilliant garage
Value

Quality

Service

Overall
A brilliant service which I would recommend without hesitation
By Bob Fenner -
21/06/2011

Great Garage
Value

Quality

Service

Overall
I found this garage online, after my car had some bad work carried out on it by another garage. MGC went above and beyond the service I expected, very efficient and good fair prices. I have recommended the garage to my friends and colleagues. Holly
By Holly White -
25/04/2011

Great garage - great guys
Value

Quality

Service

Overall
This garage was recommended to me by a friend and after one quick and call I was able to go down straight away, have the problem diagnosed, fixed, and at a fair and realistic price. I'll be using them for all my future car troubles (not that I want any future car troubles that is). Chris.
By Chris Taylor -
12/04/2011

Top garage!
Value

Quality

Service

Overall
I had arrived in Nottingham during rush hour, having travelled up from Gloucester to attend a day course. My clutch failed & I couldn't go anywhere. The recovery truck took me to MGC. They moved non-urgent jobs around so that they could have my car ready the same day, which I wasn't expecting. It was ready by 4pm! They also took me to the course for free! They were polite, helpful and extremely efficient. I would definitely recommend them! Thank you MGC!
By Sharon Smith -
23/02/2011

BRILLIANT SERVICE
Value

Quality

Service

Overall
I wish I had found this garage years ago. Good prices, honest, efficient even gave me a lift to work. Half the price of a certain main dealer garage in Nottingham who have been appauling -Fantastic will definitely use again.
By SALLY TAYLOR -
10/09/2010

Super garage!
Value

Quality

Service

Overall
At last I've found a garage that not only gives excellent service, they are one of the cheapest in Nottm, i would definately recommend mgc. very happy customer
By carl gregory -
23/08/2010

Got me Out of a Jam
Value

Quality

Service

Overall
Whilst Driving my Alfa today, lost all power and the dash light up like Blackpool in November. Found these on my iphone (life saver) and they got me to come straight down. Problem was a Lambda Sensor ??? They had the part in stock and got me on my way to collect the kids in 40 minutes. Who said you can't get better than a quick fit fitter ? Will come back for sure. Many thanks really.
By Kulvinder Mann -
28/08/2009

Good Value
Value

Quality

Service

Overall
Repaired Car quickly and efficiently....price just right
By Jaye Son -
04/11/2008